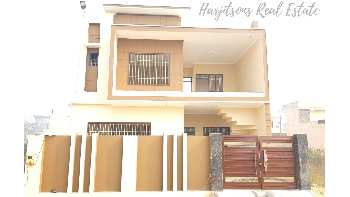 Buying real estate property in any part of the world is no child's play. However, over the years buying residential properties has become easier with banks. Several nationalized and the private bank providing affordable home loans to the citizen of our country. Jalandhar is among the rising locations in the real estate industry that offers first-time homebuyers residential properties at a very reasonable price.
Jalandhar provides for several top localities such as Model town, Surya Enclave, etc. that are attracting the attention of young homebuyers with modern age living. Various types of residential properties in Jalandhar like flats, villa, single standing houses, etc are available with modern-day conveniences at an attractive price.

However, not every one of us has a provision to buy high-rise apartments or flats within the city of Jalandhar. Although location is an important factor to consider when buying residential property, buying a 3 BHK house for sale in Jalandhar outside the city limit can become an asset in the long run. Listed below are a few factors to consider when buying an affordable house outside the city limit.
• Neighborhood
It is among the main factor to consider when buying affordable houses outside the city limit. A good Neighbourhood feel, adequate amenities, and accessibility will help you make an easy transition into your daily routine and give you a sense of community. The neighborhood should be connected to major transport routes to help you with your office or work commute into the city.
The lot size is also dedicated to the neighborhood you have opted for. Make sure that there are parks, shopping centers, schools, etc in proximity within the neighborhood before making your final decision of buying an affordable house.
• Growth Potential
There are several on-going housing projects both within the city and outside the city of Jalandhar. By investing in an upcoming location that has growth potential you will get a better return on your investment. Therefore, conduct a thorough research about the development of the locality to ensure smart investment. Opt for areas outside the city limit where there are ongoing commercial projects or residential projects or are being planned as these add to the desirability factor of the property.
• House Location
Although you can easily find several affordable houses for sale outside the city limit one should also be careful where the house is located. Some people opt to buy 3 BHK houses for sale in Jalandhar on busy streets or near highways simply because they are cheaper. However, when it comes to selling the property later over the years you might find only a few buyers interested in your property. This is limit your home buyers during the sale of the property and might even result in loss.

If your property has a water body nearby, then the value of your property might increase in the future. There is a huge demand for such affordable houses with views in today's real estate market.
Apart from the above-discussed pointers, the condition of the house itself is a vital factor to consider. You should make sure that the Affordable House for Sale in Jalandhar that you have opted for does not require major updates or home renovation projects. These home projects can easily become expensive. Opt for an affordable house with a larger lot in good condition to get the best return on your investment.


This entry was posted on April, 22, 2021 at 14 : 38 pm and is filed under House For Sale. You can follow any responses to this entry through the RSS 2.0 feed. You can leave a response from your own site.